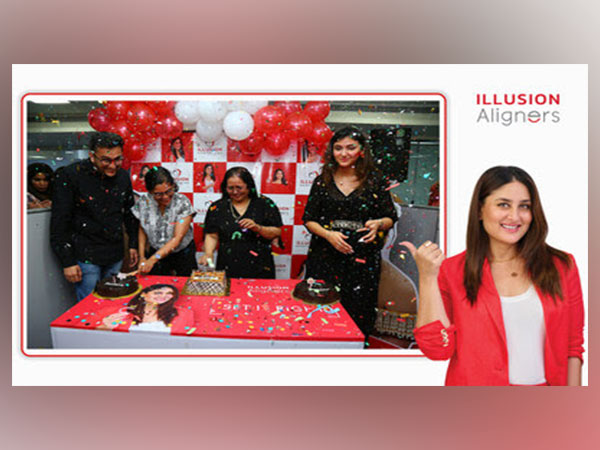 A Star-Studded Affair: Illusion Aligners Honours its Brand Ambassador Kareena Kapoor Khan in Glittering Bollywood Style
Sep 21, 2023
PRNewswire
Mumbai (Maharashtra) [India], September 21: 'Change is inevitable', and who better than Illusion Aligners resonates it the best? Illusion Aligners has always been at the pinnacle of groundbreaking innovations that redefine smiles.
They are modern-day smile architects who know how to reach new horizons to craft enchanting and stunning smiles with finesse. They have embarked on a mission to empower smiles worldwide by charting the most advanced and cutting-edge products like Illusion Aligners Pro and Illusion Aligners Aesthetics. Their endeavours to capsize the world of dentistry are evident with the trailblazing launch of their star performer Illusion Aligners FLX, which claims to upscale dentistry to the next level. This variant boasts of achieving flawless smiles faster while experiencing smile engineering with utmost flexibility and comfort.   
Illusion Aligners, one of the most trusted brands of the dental world, is known to offer products that perform as naturally as their brand ambassador, Kareena Kapoor Khan. Gaining the trust and support of this iconic celebrity has contributed incredible charm and charisma to Illusion Aligner's aim of changing smiles all over. Hence, team Illusion pitched up an idea to celebrate the birthday of their beloved brand ambassador with a pleasant surprise by hosting a Bollywood-inspired birthday bash to honour their esteemed brand ambassador.  
The staff at Illusion seemed to be smitten by her charm and held the event in a true tinsel-town style. The office was transformed into an actual movie set, with lights, camera and sound rolling in. Adding to the frame stood the larger-than-life posters of their beloved star, lovely Bebo-style costumes, and the zealous spirit of the team. Employees brought their enthusiasm and creativity to the forefront, leaving the audience in awe of their talents that captured the spirit of Bollywood and the magic of Bebo's cinematic journey. The stage was set on fire with a spectacular fashion show and dazzling performances of Geet from 'Jab we met', Piya from 3 idiots and Poo from Kabhi Khushi Kabhi Gum all backed by cheers and once more slogans. The team left no stone unturned to traverse the extra mile to re-enact some of her iconic performances from her blockbuster films to convey their wishes to their favourite celebrity. The event left everyone starstruck while marking its finale with a cake cutting ceremony and felicitating the day's best performances. 


Coming together is a beginning, and Team Illusion is a shining example of the same. They deserve resounding applause for having woven enchanting memories and choreographed a magnificent performance that was truly entertaining. 
The journey of Illusion Aligners clearly demonstrates that its success is a result of what happens behind the scenes. With every new milestone achieved, Illusion Aligners aspires to reach new heights by exploring uncharted territory. Their undeterred passion for accomplishing the seemingly impossible goal has always been inspiring and commendable. Undoubtedly, their state-of-the-art technology and dedicated team have earned them the distinction of becoming the first Indian aligner company to receive US FDA accreditation. They have been at the forefront of creating discreet, effective, and comfortable aligners that empower individuals to achieve the smiles they have always dreamed of. 
Stay tuned to their Social Media handles on  Instagram, LinkedIn, YouTube,
and
to be an early bird to catch up on the latest and exciting news about Illusion Aligners.
Link: https://www.illusionaligners.com/ 
Social Media: https://www.instagram.com/illusion_aligners/
CONTACT:
Shweta Lembarkar,
Shweta@illusionaligners.com
Photo: https://mma.prnewswire.com/media/2217123/Illusion_Aligners.jpg
Logo: https://mma.prnewswire.com/media/2108538/Illusion_Aligners_Logo.jpg
(ADVERTORIAL DISCLAIMER: The above press release has been provided by PRNewswire. ANI will not be responsible in any way for the content of the same)